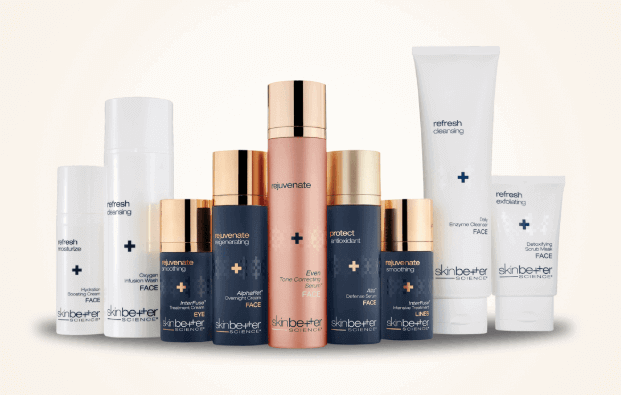 We are SO excited to announce our newest medical grade skin care line - SkinBetter Science! SkinBetter is an amazing company that has only been around for 3 short years and is already making headlines and winning best of beauty awards back to back!
What they lack in years as a company, they more than make up for in years of rigorous research! In 2016, skinbetter science set out to create a new paradigm in skincare, not only for patients, but for the physicians, nurses, aestheticians and surgeons who help patients achieve beautiful skin. SkinBetter Science products are backed by a diverse team with decades of experience in clinical research and development (in powerhouse products like Restylane® and Dysport®) and furthered by a continued commitment to the study of skincare science and the introduction of new technologies.
Skinbetter products are purposefully developed and only available through authorized providers. This model supports physicians and consumers by establishing genuine patient-practice relationships. Not just another skincare company, SkinBetter Science employs accomplished science to create genuine connections with our providers and real life results for their patients.
We are proud to carry the following SkinBetter products:
AlphaRet® Overnight Cream 30ML
A unique combination of an alpha hydroxy acid (AHA) and a retinoid that provides visible skin rejuvenation with little-to-no irritation.
Intensive AlphaRet® Overnight Cream 30ML
A more intensive concentration of glycolic acid to enhance re-texturization results.
Trio Rebalancing Moisture Treatment™ 50ML
Heavy hydration without the weight. Patented formulation that uniquely brings balance back to dry, aged skin.
AlphaRet® Exfoliating Peel Pads
Exfoliating pads featuring our award-winning retinoid, AlphaRet.
InterFuse® Intensive Treatment 15ML
A no-needle, hyaluronic acid solution that improves the appearance of lines and wrinkles.
In addition to these amazing new products, we also carry several other lines of medical grade skin care to have you looking and feeling your best all year round. Stop by today to stock up or pop in for a free consultation with any one of our experts!